Precision Evolves Next-Level Care
Standard insurance CPT billing codes do not cover Envita's integrative precision technology. This technology is highly customized and does not fit into the cookie-cutter format of standard oncology billing. When cost of care is compared, Envita Medical Centers is 3rd party actuarially validated at 50% the price with vastly more integrative precision technology.
Less than 20% of all patients receive precision oncology*
*Precision Oncology News, Survey of Precision Oncology Programs Shows Continued Adoption,
Though 'Success' Metrics Unclear Nov 04, 2020
Our integrative approach helps patients respond to treatment with an improved quality of life, increased
longevity, and reduced toxicity.
Patients Using Precision Oncology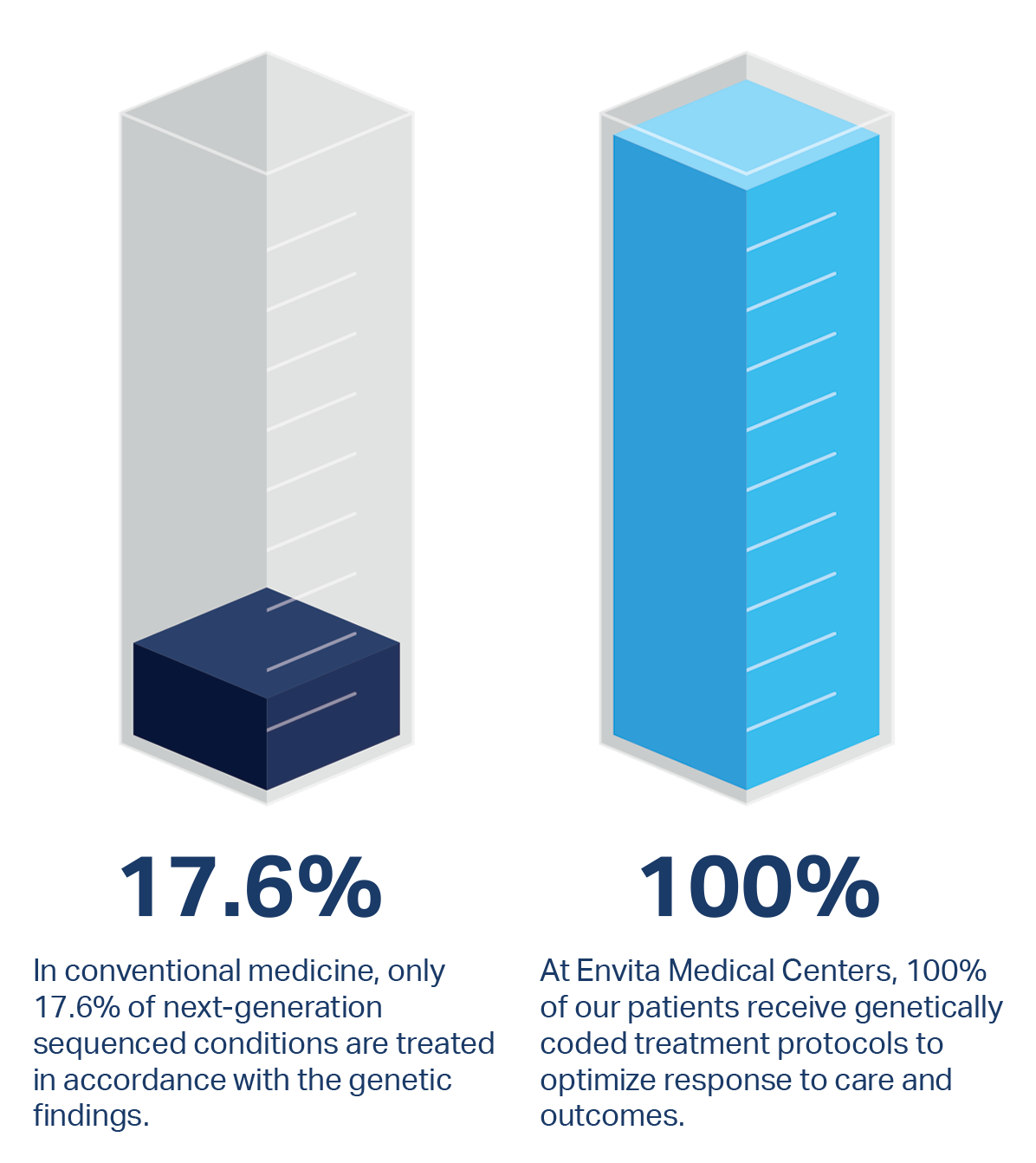 Our two decades of clinical experience shows that precision is desperately needed for lasting results. We find that…
of patients reported symptom score

improvement

under Envita's care

88%*

of patients are on the

wrong drug targets

before coming to Envita.

90%

fewer

side-effects are experienced by patients receiving precision oncology at Envita

95%*

of patients receive

precision oncology

at Envita

100%
Envita Cost Saving Metrics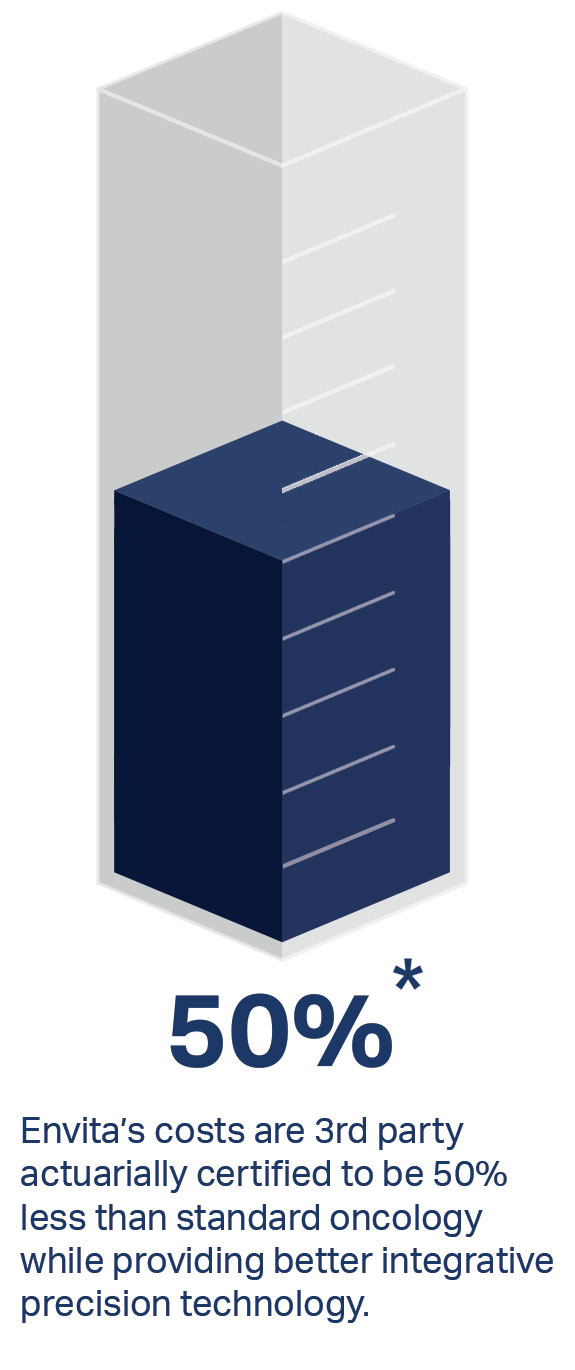 *Data is based on our analysis of records for 87 out of 129 patients that participated in Envita's treatment program in 2020. 42 patients were removed from the cohort due the patient's inability to start or complete Envita's prescribed treatment for a variety of reasons, including but not limited to, advanced disease state, disease progression, or inability to travel.
Envita is transforming how oncology care is delivered
Envita's technological innovations in the oncology field are putting patients on the path towards healing.
Individualized Custom Drug Development
All patients at Envita run extensive genomic diagnostics to identify unique treatment targets. From these targets, medications are custom developed for each patient to provide truly personalized medicine.
Proprietary Cancer Treatment Technology
Envita has developed proprietary cancer procedures to overcome many of the hurdles of traditional cancer care. These technological advances provide patients with precision drug deployment with a reduced chance of side-effects.
What patients receive in the Envita Center of Excellence Program
Next-Level Genomic Testing

Every cancer patient receives a proprietary cancer track lab to identify markers and targets for treatment that would not have been accessible in standard oncology.

Advanced Immunotherapy Targeting

Immunotherapy plays a role in killing cancer and greatly impacts tumor mutational burden making immunotherapy a critical part of the cancer puzzle for most patients.

Personalized Treatment Deployment

Treatment is carefully crafted for each patient based on their unique genomic findings and using the latest technological advancements to improve the patients chance to respond.

Value-Based Care

Treatment is provided in a team-oriented approach, coordinating care across the continuum and collaborating with a patient's other care providers to deliver the best health outcomes possible.
How to Enroll in Envita's Center of Excellence Program
If you are interested in gaining access to Envita's medical health solutions, contact our team to learn about the next steps forward.